You may not think of a retirement community as having a mayor. We'll admit our mayor holds unofficial office, but there is no question about Wes Wehrenberg's status here at Winnwood Retirement. "They call me the mayor," he says – and you can hear the smile in his voice.
For the past 13 years, Wes has enjoyed independent living here at Winnwood, so he's in a great position to mentor new residents and answer questions when prospective residents visit. He loves every minute of it.
Right away, he stepped up to help answer questions so new residents could feel more relaxed and comfortable. After a couple of years, the owners asked him to be the Mayor of Winnwood. He thinks it's because he is a good conversationalist, he's very observant, and of course, he has that special inside perspective.
"We're a family"
Everybody interacts with each other, says Wes. Residents sit down in their living rooms and talk, and they help one another with questions. When prospects visit, they do a tour, eat a meal, see people and talk to them, and get a feel for the entire property. In this case, says Wes, it's a beautiful location. But seeing the current residents is most informative, he believes.
"This is nothing like a hotel or a room stay!"
Why Winnwood?
Wes chose this senior community for the same reason many seniors move in their retirement years – to be closer to family. Although one of his daughters lives in Comer, Georgia, and the other lives in Hollywood, his son lives and owns a business right here in Marietta.
His son had driven by Winnwood, and it felt good to him, so he invited Wes to come take a tour together. They were both impressed. And it's an ideal location, as his son is just 10 minutes away now. It's best if seniors can live close to a relative, Wes notes, in case anything happens to them. For him, it's especially great since he's still independent and can do things with his son."
Not that Wes is ever bored. There are lots of activities, very different things that appeal to different individuals. These activities get people out of their rooms, so they stay busy and get plenty of social interaction. There are card groups and occasional trips residents take together, but Wes' favorite activity is his golf putting group. He and some buddies formed the group 4 or 5 years ago, and that led to the construction of a 9-hole putting green.
"I used to play golf when I was younger," he confides, "and I'm proud to be one of the originals. I've met a lot of good – and also a lot of learning – golfers."
Wes also takes time away from Winnwood to visit his daughters. The daughter in Hollywood has an Akita he's pretty fond of, too.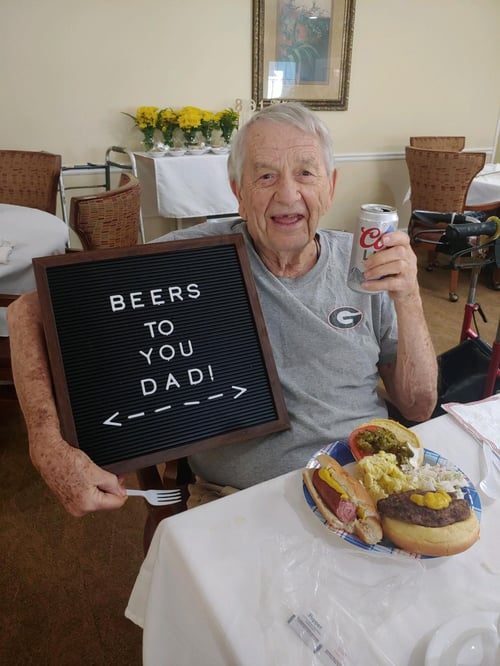 And then there's baseball
Wes previously lived in Florida for about 50 years. He served in the Air Force, much of the time at MacDill AFB near Tampa, and he wanted to remain in that area when he retired. After leaving the service, he worked for an electronics manufacturer that provides components for the military and also for Air Force One and Air Force Two (the official presidential and vice-presidential planes).
Wes is an unabashed baseball fan and proud of it. When he lived in Florida, a friend who worked in security for Major League Baseball with the Tampa Bay Rays encouraged him to join them. He did, for 15 years, during which time he was privileged to work in the visitors' locker room. It was interesting, he recalls, especially the chance to meet so many players and coaches.
Do you have questions for Wes?
He's ready with answers, as are our official Winnwood staff members. We'd love to host you for a tour, whether you're considering independent or assisted living, so contact us to schedule a time.