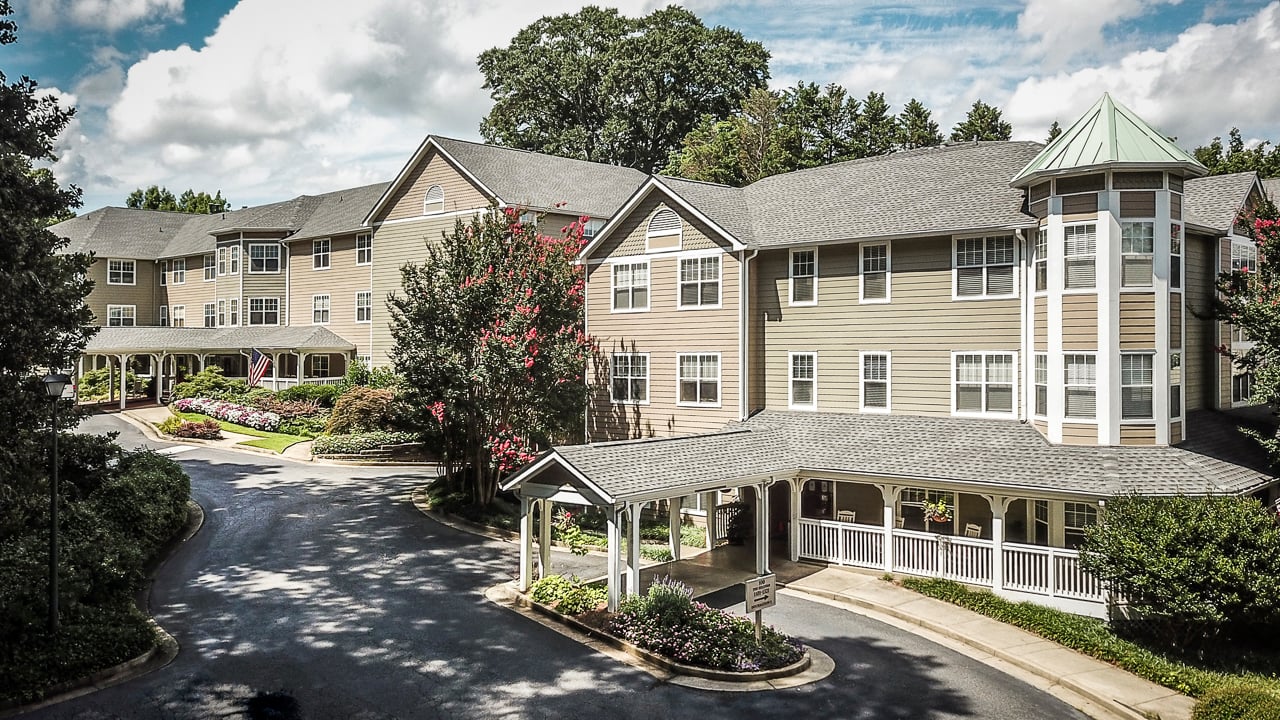 There are quite a few options available for seniors today, which may make it confusing when talking about or thinking of independent living. And when you're making critical life decisions, it's important to fully understand the options.
>Will you be living independently, or residing in an independent living community (or both)?
All seniors who are still living in their homes are "living independently"; however, the difference between living independently inside an old house is quite different than living in a resort-style retirement community like Winnwood Retirement Community.
Still, the concepts are extremely similar, and it can be confusing. To help illustrate what we mean when we compare the two, let's examine why they're different:
When seniors are living independently in their houses, they still have all the responsibilities (and costs) associated with homeownership. This can include to-dos like home maintenance or repairs, paying for homeowner's insurance, taking care of the lawn, and even daily to-do items like picking up food at the supermarket and cooking breakfast, lunch, and dinner.
When you reside in an independent living community, you or your family member retains the freedom of living in a house, but without all the hassle. In fact, many independent living communities (like Winnwood!) actively take steps to reduce your stress (spa day, anyone?).
1. What is independent living compared to other types of senior living?
As we touched upon earlier, there are quite a few types of senior living for seniors. Depending on your specific needs or preferences, there is likely an excellent option available for you. Following are some brief details of other types of senior living, with a note of how they are different from independent living options for seniors:
Live-in care
For those seniors who need constant care, a live-in caregiver may be the right option. Seniors who opt for this choice, more often than not, have some significant health challenges, requiring someone to live in the home full time. Many families or individuals feel uncomfortable having a stranger move in; however.
Home care
For seniors who need some extra help or have some serious health issues, home care provides a professional caregiver, nurse, or nursing assistant, who'll come to the house and administer care for a brief period at a duration chosen by you and your family (and even with input from your doctor, if necessary). Although this doesn't require permanent residency, some families are uncomfortable having a stranger come to the house each day.
Specialized care
For those individuals who suffer from health conditions like heart disease, diabetes, Alzheimer's or dementia, specialized care is often offered at home, but may also be provided in nursing homes and other senior care facilities. This type of care is for those seniors who have some substantial health needs.
Nursing homes
Nursing homes are often the first thing people think of when considering senior living options. In fact, you've likely visited a loved one or friend of the family in a nursing home over the years. These are 24-hour residences that are typically for seniors and those who have serious health conditions. Nursing homes provide full-time care for those individuals who cannot care for themselves, and require professional care in order to stay happy and healthy. While there are often some activities for nursing home residents, they can depend widely on specific abilities and medical conditions.
Assisted living
Assisted living sits in the middle of the senior care spectrum, offering some levels of nursing care with extra help with meals, housekeeping, and other daily tasks. Many assisted living communities (including Winnwood Retirement Community) offer some extensive activities and amenities, even fun day trips, to provide a rich, full life for residents, while giving loved ones extra peace of mind. Many seniors and their families opt for retirement communities that offer both independent living and assisted living, so that seniors can stay in one community for the longest possible period of time.
What seniors are a great fit for independent living?
Independent living for seniors is typically defined as communities designated for seniors age 55 and up. There are some seniors who are ready, willing, and able to make the jump to independent living as soon as they hit 55. They don't want to deal with a house anymore, and want to enjoy a vacation-like retirement. We can understand that!
For other families; however, the exact timing of a move to independent living may depend on several factors, including:
Your current age
As we mentioned above, this is the most technical of independent living requirements. In our conversations with residents and their families, we find that the happiest and least-stressed residents are glad that they started planning for a move to independent living at least a year or two before they turned 55. Since many independent living communities for seniors operate with a waiting list, planning for a move and finding the right independent living community in Marietta, GA ahead of time can prevent any hiccups or delays in your move.
We find that many seniors and families like to plan for a move to independent living for several years before they actually turn 55. This can help families make a seamless transition, and can also help prevent hitting unnecessary snags (like having to go on a waiting list).
Any medical conditions or needs
If you have any progressive medical conditions that will change over time, it can impact what type of retirement community you choose. Couples where one partner has more medical challenges than the other can also impact how you choose the right independent living community for seniors. We'll stress this again because it's important – planning well in advance of your move is especially critical to avoid waiting lists and ensure you can make the best possible choice for your needs.
The process of selling a house
Selling a house in any market can take a long time and be incredibly stressful. For some families, selling the house may be required before seniors can make the move into independent living. If your house needs any work or renovations before it can be sold, this can also make a big impact on the timeline for selling your house and making the move to an independent living community for seniors.
Your financial situation
If you're dealing with any financial situations or stressors right now (or you foresee some in the near future), it could make an impact on your ability to move into an independent living community on your preferred timeline.
Your lifestyle preferences
How you prefer to live your life can dramatically impact not just your timeline for moving into an independent living community for seniors (especially if you travel a lot), but also your choice of an independent living community.
What's independent living community life like for seniors?
Researching and planning a move to independent living for seniors in Marietta, GA and actually living the day-to-day life of an independent living resident are vastly different. We strongly recommend prospective residents tour our community (and any communities they're considering) to get an actual feeling for resident life.
Until you can schedule that independent living tour; however, here's a brief outline of what a day of life at Winnwood Retirement Community might look like:
In the morning
You spring out of bed, get dressed, and take your time going down to the dining room to grab some breakfast before you head out into a busy day. Once you've finished your breakfast and caught up with some friends in the dining room, you are off to the fitness center so that you can stretch before your water aerobics class.
As a wind-down after water aerobics, you stop by the library for a cup of coffee and some reading time.
In the afternoon
Remember that spa day we mentioned? It's time to head to the salon for a cut and style. Your child and grandkids are stopping by this afternoon, and you want to look your best. You all meet in our reception area to play a game and spend some time together before you all go out for some lunch.
After you get back, you join some friends for a game of Gin Rummy before taking a short nap before dinner.
In the evening
You're feeling like something different for dinner, so when you head down to the dining room and see that there's a Mexican dish being offered, you decide to give it a try. You love that there is a nice balance of food each night, including some exciting, new dishes and plenty of old favorites.

You enjoy your dinner with some friends and make some plans with them for later. Then, you take a walk down one of our walking paths to help with your digestion.
It's time for those plans – you meet up with your friends to enjoy some snacks and watch a movie in our movie theater!
If it feels like a carefree vacation day, you're right on point. That's exactly the type of feeling we work hard to create for our residents here at Winnwood Retirement Community!
How much does it cost for independent living for seniors in Marietta, GA?
When you're choosing an independent living community for seniors in Macon, GA, it's important to outline your budget early in the planning process. Determining affordability and looking closely at your budget will help you make the best possible decision for your future.
Although it may seem as simple as looking at cost of living for an independent living community for seniors versus the cost of your mortgage, it's actually much better to look at the big AND small picture. That's because homeownership comes with a range of expenses (sometimes even "hidden" expenses) that are easy to forget when planning, but add up to quite a chunk out of your budget.
We have residents here at Winnwood Retirement Community who have actually saved money after moving here – and they get all the extra activities and amenities on top of the savings!
To understand how that could even be possible, let's take a look at the costs that come along with homeownership as well as the costs of independent living residency.
Homeownership costs that are either included or significantly reduced when you make the move to independent living include:
Mortgage/rent
Homeowner's/renter's insurance
Property taxes
Utilities (including electric, gas, sewer, and water)
Home maintenance (including new appliances, repairs, and more)
Groceries
Car payment/gas
Car insurance
Homeowners association fees
Lawn service
Cable/internet
Costs for amenities and hobbies that are included with independent living residency
A studio apartment at Winnwood Retirement Community starts at around $2,340 per month, and there are several lifestyle options to meet your specific wants and needs. To discuss your needs and learn more about availability here at Winnwood Retirement Community in Marietta, GA, be sure to contact us today!