Winnwood's family of residents and staff are always here to support you and your family in a time of need. Winnwood Retirement Community of Marietta is located right off the Marietta Square in Cobb County, Ga. and is a full-service, upscale retirement community offering independent and assisted living services.
Can you believe that socialization is still the number one reason people choose Winnwood? If you want to see something eye-opening, take out a piece of paper and make two columns. One is what you are paying now to live by yourself, which includes in many instances but not limited to : mortgage or rent, all your utilities separately, mode of transportation, insurance, dwelling upkeep, maintenance, lawn care, exterminator contracts, buying new appliances, property taxes etc... etc... etc...! Compare those numbers to the second column, which is Winnwood's more inclusive pricing. I think you will see the picture of simplicity I am trying to paint for you!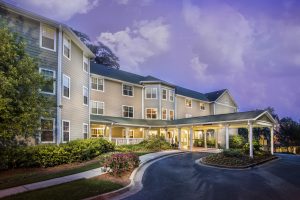 Spend more time relaxing and enjoying our award-winning grounds. If you are worried about missing your garden, we will give you a place t plant one! I like to say our staff all specializes in stress reduction!
There are tow other living choices at Winnwood you may not know. Transitional care helps you settle into your new residence as slow or fast as needed, while recuperative care enables you to get back on your feet after minor health issues or some other short-term supportive need.
Winnwood's professional staff are the concierges of retirement living and will gladly point you in the right directions, even if they can't directly support your health or living needs. If you need us, we will be here! Call or take a tour. We would love to help you or your family!